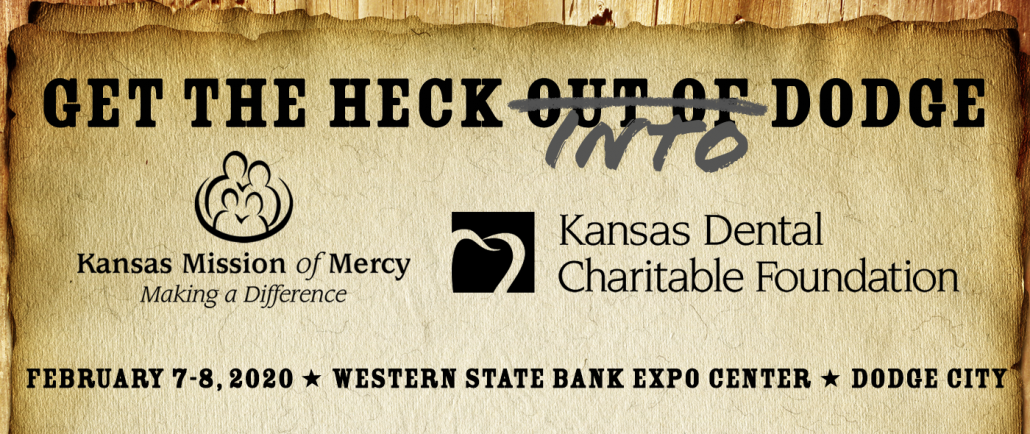 Let's get the heck INTO Dodge for KMOM 2020!
Volunteer registration is now open! Click the button below to register.

---
Please note that every volunteer will need to complete the registration form individually and a legal parent or guardian will need to complete it for volunteers that are 16 or 17 years old.
To prevent your confirmation email from going into your SPAM filter, add postmaster@dentalmission.net to your email contact list. Please ensure that you enter your email CORRECTLY into the registration form, as this is a very common mistake.
You will not be able to go back in and change your registration, so register only for the sessions and meals you plan to work and attend. However, situations come up, so please address any changes to your registration by emailing courtney@ksdental.org or by calling 785-272-7469.
---
Parking Pass
Don't forget your parking pass!
Volunteers who plan on driving to this event should print a parking pass to place on their dashboard.
You will be able to unload your equipment and supplies at the volunteer entrance.
Hotel Information
Hampton Inn & Suites
Rate: $99
4002 W Comanche St
Dodge City, KS
620 225-0000
TownePlace Suites by Marriott
Rate: $74
2800 W Wyatt Earp Blvd
Dodge City, KS
620 371-7171
Holiday Inn Express
Rate: Single $99 / Double $109
201 4th Ave
Dodge City, KS
620 225-1000